Resolutions and Robotics- Louis Law (9)
"I had resolutions to make better time commitments and be more organized. That didn't really work. I mean, the big thing is transitioning from eighth to ninth [grade], right? That was pretty interesting. The people in Irvington aren't the same as in Horner, and we all kind of changed a bit. But we are still in the same group, and most of us are still friends. So that's pretty cool. I mean, I guess I'm doing a lot more things now with high school.
Last year, on January 19th, we went to a robotics competition, and there was a piano. After a year of me just not touching the piano and not doing anything, I started playing [it]. It's added a lot to my life.
I tried lots of new things. There was marching band and cross country at the same time. In junior high, I was pretty decent at running, but after going into cross country in Irvington, I really changed how I ran, and broke my own records. I tried doing quiz bowl, but I do not have the memory retainment for that. I'm coaching Weibel math club some days. And I'm in the robotics team. We qualified to move on to the next level for our robotics tournament in December. The regionals are in March. Our robot actually broke spectacularly, but we somehow still got the top second award that wasn't related to the robot at all, and us being able to move on is an accomplishment because we didn't succeed last year.
High school is pretty good, most times. I get to see a lot of friends and interact with a lot of people. There's a lot more opportunities to hang out with people because I don't really do that often. It's also stressful when you procrastinate a lot. Kind of messes up your sleep schedule. Sometimes, it can be really boring. Sometimes there are really long lectures, and I'm sure that they're kind of interesting if I put some thought into it, but sometimes I'm just out of it, and then it becomes a really long hour.
I interact with people a lot more now. Most of the time I just stay at home, gets pretty boring. Also in school, I don't really try too hard. I guess part of me was hoping that I could keep not trying as hard, but now in high school, everyone's kicking it into high gear, and so I guess I have to do that too."

About the Writer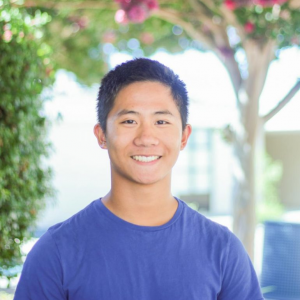 Will Peng, Sports Editor
Will Peng (12) is the Sports Editor for the Voice, and this will be his second year on the team. He can recite all 45 presidents of the United States, and has a plethora of historical anecdotes to fill any conversational silence should there be one. If you want to hear a story, just ask him (please do). Kids, this is what AP U.S. History does to you.