10/13 FUSD Board Meeting Members Update Incoming New Plans
On October 13, 2021, the FUSD Board of Education held an in-person board meeting to discuss the need to address students affected disproportionately, the increase of refugees and people from Afghan, eventually ending the meeting with the approval of recognition for Latina/o/x Heritage Month in the district.
Specifically targeting significantly disproportionate students such as white students who are identified as emotionally disturbed or health impaired and Hispanic students overall, a CCEIS (Comprehensive Coordinated Early Intervening Services) Plan was made in May of 2021 and followed up at this meeting to be mandated. The plan aims to tend to the four-year disproportionality gap in the Fremont district by taking into consideration young students' needs before they are referred. Patty Sandoval, Administrative Assistant to the Superintendent mentions how CCEIS will hone in on providing aid to primary and middle school students as they are seen to be the ones most affected by these issues.
The plan was unanimously approved, and upon this sanction, the board will find staff members who will carry out this plan, and officially start the CCEIS curriculum while collecting data and progress reports throughout its duration. The closing of this statement opened the way for the conversation of Afghan refugees and whether or not the district should welcome and support them.
From a total of five votes, three members agreed to the resolution while two members disagreed.
Vivek Prasad, one of the two who opposed the statement, states that he would rather be more action-oriented than resolution-oriented in regards to supporting these Afghan families.
"Personally, I would like to be involved in as much help as we can provide," said FUSD Board Member and Clerk Prasad. "Somehow I feel [like] this resolution is really out of the scope of the board, from my perspective."
There were some arguments following this point, with President Larry Sweeny stating how he agreed with Trustee Prasad with the suggestion that the resolution should be reworded to focus more on service-based measures and with Vice President Dianne Jones countering with her opinion that the resolution was fine as it is.
"I would not want to see any changes to this resolution that didn't go through that community," Jones stated. "They brought this to us as it is with a reason."
During the final duration of the meeting, a national heritage month for Latina/o/x representatives was brought up. The month, decided to begin and end from September 15 to October 15, would be recognized district-wide by the endorsement of this notion. Assistant Superintendent Leticia Salinas brought up the point that Spanish-speaking or learning students, besides merely speaking the language, should also learn about its culture, a comment echoed by Trustee Prasad.
The board adjourned the meeting by passing the modification to take out the year 2021 to discontinue any references to the heritage month only being celebrated for one year, as well as changing the name of Hispanic Heritage Month to Latina/o/x Heritage Month. The next board meeting will be held on the 27th of October.
About the Contributor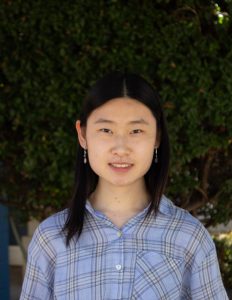 Sophie Mo, News Editor
Sophie Mo (12) is delighted to be a news editor for
The Voice
this year. Other than staring holes into a google doc never to write, she can be found scouring for new books and literary magazines to consume in her spare time.