FUDTA Rallies for a Second Time at FUSD Headquarters
On Wednesday, May 11, 2022, the Fremont Unified District Teachers Association (FUDTA) organized a rally from 3:30 p.m. to 5:00 p.m. at the Fremont Unified School District (FUSD) headquarters. Teachers, students, and parents alike gathered for the meeting, sporting red clothing in support.
Prior to the rally, FUDTA and FUSD had been negotiating salary increases accounting for Cost of Living Adjustment. During their meeting on April 25, 2022, FUDTA held its 6.07%, 5.33%, and 3.61% increases, and FUSD reiterated its offer of 3% for the first year, followed by a lower wage increase over the 2022-23 and 2023-24. FUDTA educators also rallied on March 23, 2022, for a fairer wage.
The rally was held in response to the district filing for impasse determination regarding the cost of living negotiations on April 29. The negotiations are part of the recent budget and contract negotiations between FUSD and FUDTA. Further negotiations on the subject will now occur between a mediator (yet to be assigned) set by the Public Employment Relations Board (PERB) and FUDTA.
This was the second rally led by FUDTA: educators initially rallied on March 23 in solidarity with FUDTA bargainers. This time around, the group sought to gain more participation from the local community, including students and parents. Getting community support was especially important to emphasize the severity of the circumstances that educators were under. Additionally, several representatives spoke to educators from schools within the district in order to understand the largest issues for contention, including the need for smaller class sizes and the significance of having a salary adjusted for the cost of living in Fremont.
"I just wanted to go show my support," said Katelyn Au (12), a student who participated in the rally. "Even if you don't go to protests and rallies, [I think it's important to] show gratitude towards teachers because they sacrifice actually a lot." Au had heard from several of her teachers about their current working agreements, which prompted her to initially join the rally. Other members of the community actively rallied alongside educators.
Rally participants, led by chant leaders such as Justin Valencia, a history teacher at Horner Middle School, initially marched around the FUSD headquarters. Near the end of the rally, participants entered the building, chanting slogans as they marched.
"A lot of board members might be inside [the headquarters] the entire time," stated Mr. Valencia. "Sure they can hear us, but it always sends a message home to have 300 to 400 people marching around the Boardroom, showing how [many of us] are there telling them to come to the table and give us a better offer."
For the past year, educators at FUSD have been working without a set contract, as negotiations are underway. To teachers, the cost of living arrangements that FUSD provides is simply not enough, let alone the fact that healthcare is not provided for by the district either.
"I saw so many of my colleagues leave Fremont and move someplace all the way across the country like Texas or Georgia," stated Girija Patkar, a math teacher at Irvington High School. "People are reluctant to work in these kinds of situations where they cannot make ends meet."
Ultimately, through the rallies, educators and FUDTA representatives hope to further negotiate with FUSD for better wages, reaching terms for a contract as soon as possible.
"We are working day and night, answering emails and writing recommendation letters. We're grading tests, setting up tests: all that stuff is 24/7," said Mrs. Patkar. "So if we are that loaded and we are doing our job with that much dedication, then we feel that it should be recognized and should be compensated proportionately."
The next bargaining session is scheduled for May 18, 2022, where negotiations will address details on adult schooling, future academic calendars, special education, and more. For more information on the first rally held, click here.
This is an ongoing story. The Irvington Voice remains committed to covering future updates and turning points in budget and contract negotiations between FUSD and FUDTA.
About the Contributor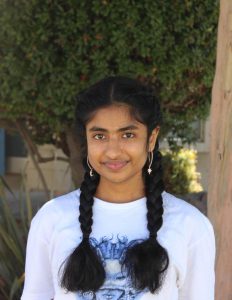 Sadhana Chari, Editor in Chief/Student Life Editor
Sadhana (12) is excited to be back for her third year at the Voice. She loves traveling, reading, and baking really badly. If you can't find her doing any of those things, she's probably aggressively playing 2048 - 3d version to replace her solitaire and cut the rope addictions.