Djokovic's Melbourne Standoff: Explained
Last week, tensions flared in Melbourne when Novak Djokovic, the World #1 Men's Tennis player, was detained by the Australian Border Force for not having been inoculated with the Covid-19 vaccine. Djokovic, who intended to play in the prestigious Australian Open Grand Slam tournament, appealed his detention; he won his first case on procedural grounds, but later had his visa revoked by the Australian Immigration Minister. He was deported on Saturday.
The confusing episode stemmed primarily from miscommunication between Djokovic, the Australian border authorities, and the organizers of the Australian Open. The organizers, Tennis Australia, communicated to Djokovic that despite his unvaccinated status, he could get a medical exemption because he may have contacted Covid-19 in December. However, the Australian Border Force rejected this argument, and arrested Djokovic at Melbourne Airport upon arrival; they claimed he did not have enough proof to meet the legitimate medical exemption requirements. Public opinion may have also played a role in the decision, with people in heavily vaccinated Victoria seeing Djokovic as a rule breaker who got his exemption only due to his celebrity status.
Following his arrest at the airport, Djokovic was detained in an immigration hotel while awaiting a court hearing that would decide upon his visa status. He ended up winning that case due to procedural mistakes made by the Border Force officials, but the victory was short lived. Immigration Minister Alex Hawke revoked Djokovic's visa four days later and immediately ordered him to be deported. That decision, too, was contested, but Djokovic lost the case. On Saturday, he boarded an Emirates flight to Dubai and left Australia, ending a weeklong debacle for all involved.
The impact of this on the Australian Open this year has the potential to be immense. Djokovic holds the world record for the most wins in the Australian Open, with 9 titles in the last 12 years. His wins in 2019, 2020, and 2021 against such opponents as Rafael Nadal, Dominic Thiem, and Daniil Medvedev have demonstrated his dominance on the hard court. Now, with Djokovic gone, there is a massive opportunity for others to win the tournament. Nadal especially has a chance to take the record for the all time highest grand slam wins for men and pull ahead of Djokovic and Roger Federer.
As for Djokovic, it remains unclear what his next steps may be. The Wimbledon and French Open may impose similar vaccination requirements; if he continues to refuse the shot, his career may be approaching a close. His popularity has declined substantially due to his perceived anti-vaccine stance, and it remains to be seen how audiences will react to him on the court in future games.
About the Contributor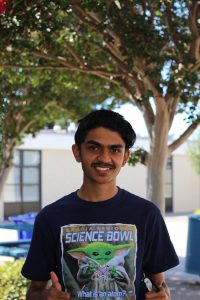 Sumukh Murthy, Web Editor
Sumukh Murthy (12) is currently the Web editor for the Irvington Voice. You will often find him reading, coding, biking, and playing video games, and occasionally remembering to do his work in between. He is committed to providing news stories with minimal bias, like his role models at CNN and Fox News. This is his first and last year at the Voice.