The Love Story Between Taylor and Her Music (Taylor's Version)
Taylor Swift, a powerhouse of the music industry, is pioneering a new way for artists to own their music. After facing several disputes and bad blood with her former record label, Big Machine Records, regarding the ownership of her music, Swift has decided to re-record her albums, making the original ones virtually unprofitable. Most fans have boycotted listening to the master versions of her songs, and instead prefer the ones marked (Taylor's Version).
From 2005 to 2018, Swift was signed to Big Machine Records, who still own her first six albums. As Swift's music is deeply personal and self-written, she hoped to own her work, but was denied the opportunity to buy her albums. Instead, her label sold it to private-equity group, Ithaca Holdings, which prompted Swift to publicly announce that she would re-record her albums. However, Scooter Braun, the CEO of Ithaca Holdings, was able to resell the masters to another company, Shamrock Holdings, for nearly $300 million in 2019. After Swift's contract ended, she switched to another label, Universal Republic Records, who gave her the rights to own her music forever and always, while she currently re-records her previously sold albums, starting with Fearless and Red.
With 26 tracks on Fearless and 30 tracks on Red, Swift has not only gone to great lengths to begin again and release her old songs, but also to release new ones that belong on the album. Her "from the vault" tracks include several features with artists like Phoebe Bridgers and Ed Sheeran, and give fans new music to look forward to. Most notably, she released a 10 minute version of "All Too Well", which eventually broke the record for "Longest Song to Reach No.1 on the Billboards." As she climbs the charts and breaks barriers, Swift also advocates for how delicate and important the relationship between an artist and their music is.
Swift strives to claim ownership because of how meaningful her songs are to her. Credited as a co-writer or a writer on all of her music, Swift believes she shares a love story with her authentic and raw lyrics, and finds empowerment in being able to own the art that she has painstakingly created. Since her re-recordings, everything has changed as she now has found closure in owning all her music. And in true Taylor Swift easter-egg style, the IHS Voice has hidden eight different song titles for you to find throughout the article.
About the Contributor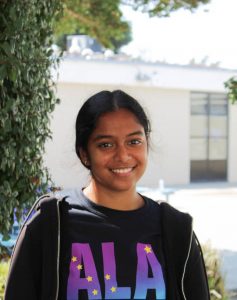 Riya Parekh, Staff Writer
Riya (12) is excited to be a first year staff writer for the Voice. She joined journalism to interview diverse people and eat good food on workdays. In her free time, Riya enjoys badgering her family members, eating Taco Bell, and spending time in her backyard.