Pitch Perfect Hits the Right Notes
Musical comedy blends oldies, pop, laughs, and warmth
Pitch Perfect is an exhilarating harmony of comedy, romance, and amazing voices that follows two rival a cappella groups in college. Its adorable cast, perfectly timed punch lines, and can't-get-out-of-your-head tunes will stay in the audience's mind long after the end credits.
The plot centers around Beca (played by Anna Kendrick), a rebellious freshman who prefers being a loner but has a passion for "mashing" different genres of music. On campus, the fiercest competition lies between the Bellas, the all-girls a cappella group, and the Treblemakers, the all-boys group. Jesse (played by Skylar Astin) is the cheerful and nerdy Treblemaker newcomer who chases after a scowling Beca.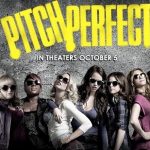 www.themovieblog.com
The real star of the film, though, is Fat Amy (played by Rebel Wilson), whose deadpan comments and deep, rich voice have stolen the spotlight. Whoever had not yet fallen in love with Fat Amy the moment she explains her self-picked nickname "so twig b*tches. . . don't do it behind my back" is sure to be head-over-heels smitten with her after she lies down in the middle of the road to demonstrate her "mermaid dance."
The film does an amazing job blending past hits and today's pop culture songs. There is also just the right amount of heartfelt moments to make this musical comedy down-to-earth. The title does not lie; this film really hits the perfect pitch.