Irvington Shows Off Creative Talent at Annual District Art Show
Fremont Unified School District office hosts art exhibition featuring art from students all over Fremont
By Khushi Patel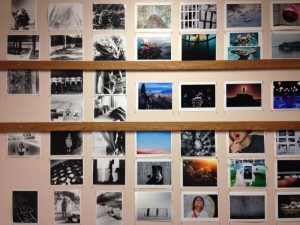 On Wednesday, April 17 FUSD main office hosted an art exhibition for budding artists and creative minds in the Fremont district, including students from Irvington, Mission San Jose, Washington, Kennedy, Thornton, Walters, and Horner. Irvington itself presented art from Art 1, AP Studio Art, Art 2, Sculpture, Photo classes.
According to the district board flyer, the art exhibition was held in order to showcase students' art to people throughout the district for parents, teachers, and students from other schools to see. According to Mrs. Barret, art 1 teacher, "[My students and I] pick things we've done throughout the year and put them up. . . I couldn't fit them all; I was very bummed."
The showcase itself was decorated by teachers and students alike. "It's just an art show," said Ms. Parker, AP studio art and art 1 teacher. "They put it on every year." However, too many students it wasn't just an art show, but a way to put their work on display for others to see. "I'm really excited to see my photo up in the district office where so many people can see it," said Priyanka Thakur, a junior in Ms. Burton's photo 1 class. "It feels great to see people who I've never met before pointing at it and appreciating it. I feel famous". Thakur's photo features her sister, Anjali Thakur, writing the word "ugly" in lipstick on a mirror. "I was inspired by all the negative comments I hear from girls in the bathrooms," said Thakur. "So many people aren't satisfied with how they look and my photo is just a representation of that".
Likewise, Ashrita Chavali, a junior in art 1, had two of her art pieces put up; one of a unique creature and a painting of Lord Shiva. Chavali stated, "Honestly, I feel quite honored. I didn't think any of my paintings would get that kind of recognition, so I'm really glad about that".
In addition to student art displays, Mr. Mintey, the sculpture and ceramics teacher, had a display set up as well. The display was dedicated to students in his sculpture 1 and 2 classes, such as Mariah Damaso.
The event itself was attended by students and families from around Fremont, where they were able to view the artwork on display and buy food from local food trucks that attended this event.