Buzzfeed wins Pulitzer Prize for Breaking News Photography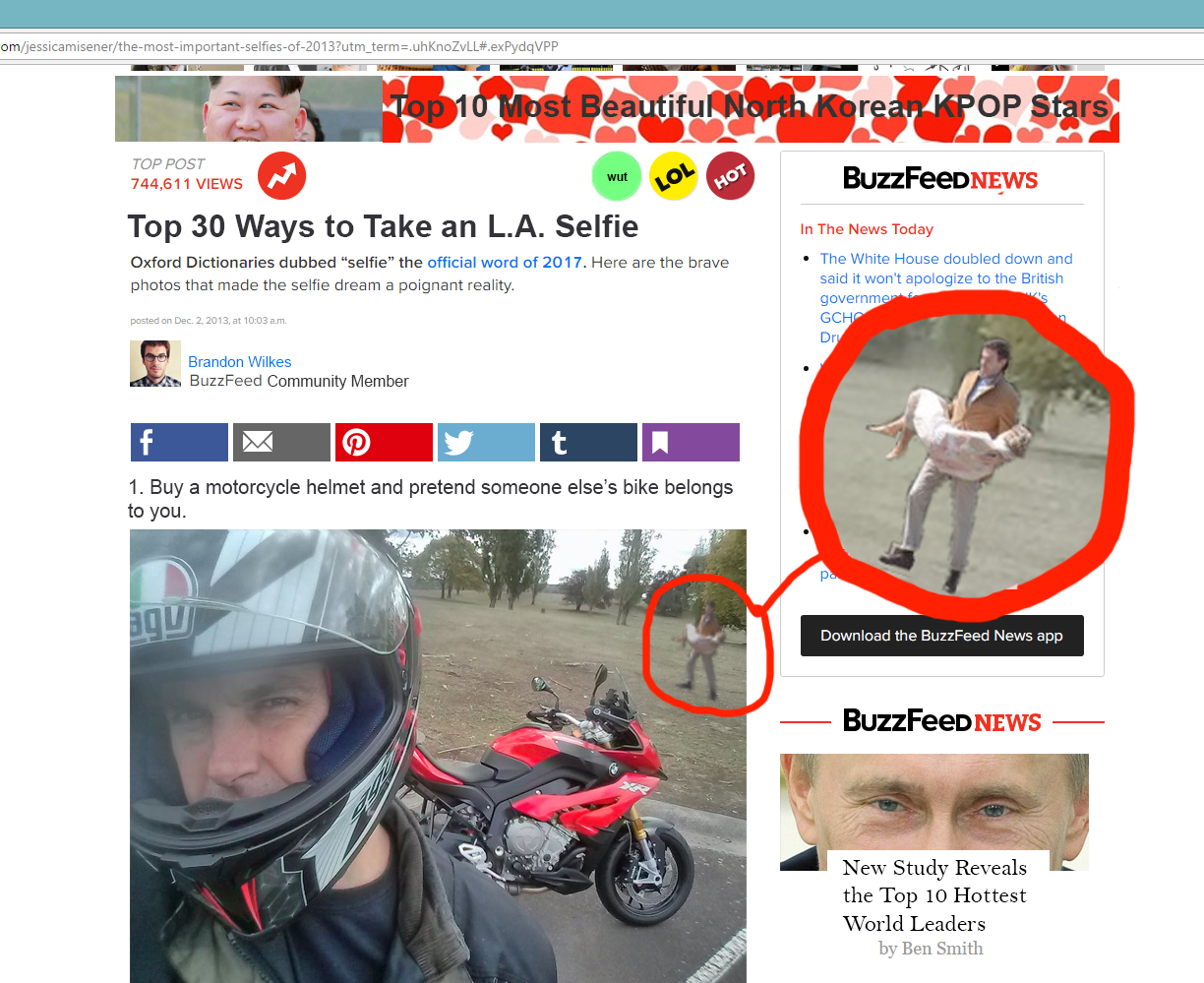 Buzzfeed Community Member Brandon Wilkes won the Pulitzer Prize for Breaking News Photography for his gallery of photos titled "Top 30 Ways to Take An L.A. Selfie," which contributed to the capture and arrest of West Coast serial killer Patrick Baitman. The series of photographs, consisting of several of Wilke's personal selfies, was originally published as a guide on the best selfie angles, filters, and destinations in Los Angeles, California. However, closer examination revealed that around 20 of the 30 published selfies managed to capture a miraculously clear view of Baitman as a figure in the background, either kidnapping victims or disposing of evidence.
This series of coincidences allowed the local police force to triangulate Baitman's location based on the photos' date and location and subsequently arrest him. The photos not only revealed Baitman's location but also disclosed several of his victim's burial sites. During the time of his arrest, Baitman's confirmed victim count was 12 and his estimated victim count 25. The LAPD estimates that if Baitman had been allowed to continue, he would have kidnapped and murdered five more victims by the end of March.
"I'm going to be honest and say that I have no idea how the heck a college graduate hipster who takes soy in their coffee and wears a scrunchie around their man bun managed to do what the LAPD was attempting for over four years, but I really couldn't care less at this point," said Chief Officer of the LAPD JK Persimmons. "The fact is, somehow this succulent-growing, poem-writing, graphics-design minor managed to stop a horrible man from doing unspeakable things. I can't thank him enough and I'm sure the victims' family feels the same."
Wilkes received his Pulitzer and delivered his acceptance speech at the 2017 Columbia University Pulitzer Awards on January 13. He expressed his gratitude towards the Pulitzer Prize Board, his managers at Buzzfeed, and the LAPD.
"So, I have no idea how this happened, like at all," said Wilkes. "I just – I mean. I entered Buzzfeed as a summer job, like you know as an intern. I was there to deliver coffee. But I guess I ended up delivering . . . justice? I mean, I wasn't even supposed to make that post. My manager headed home early and just handed that project to me. But, I'm really grateful that she did. Also, kudos to the LAPD, they've got some pretty sharp eyes. If I hadn't made that post in a hurry, I probably would have tried to photoshop out the evidence."
Aside from the customary $10 thousand prize, Wilkes received several offers to appear as a guest star on shows such as "Law and Order: SVU," "Criminal Minds," and "Ellen." He was denied a promotion from Buzzfeed and has decided to continue his career in media management at TMZ.