Be Original, They Said
As Americans, when we think Thanksgiving, we think turkey dinners and pumpkin pie. Here's how some people have found ways to make Thanksgiving their own.
University of Wisconsin's Frozen Turkey Bowling
As part of a yearly tradition at the University of Wisconsin La Crosse, the community gathers together to roll frozen turkeys down oiled tarps at a set of bowling pins, an event aptly named "Frozen Turkey Bowling".  Proceeds go towards the American Cancer Society, who also hold the Great American Smokeout, a national smoking intervention, on the third Thursday of November. Thus, these American college students celebrate Thanksgiving by battling lung cancer with frozen turkeys.
The U.S. Presidential Turkey Pardoning
Back in 1947, the Truman administration began the National Thanksgiving Turkey Presentation, where the president would be presented with a plump gobbler on Thanksgiving Day. However, starting with George H.W. Bush in 1989, it has become tradition for the U.S. president to pardon the turkey from becoming dinner. Every year, the country watches as our president spares a turkey in honor of the Thanksgiving Holiday.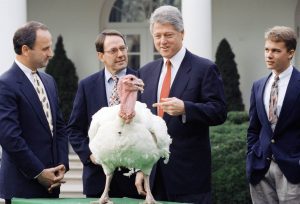 Santa Barbara's Pumpkin Smash
On Thanksgiving Day at the Santa Barbara Zoo in California, zoo goers are encouraged to come watch how different animals interact with pumpkins. Each year, crowds literally come to watch how animals react when having a pumpkin in front of them.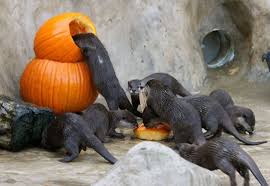 The Indiana Turkey Toss
In Indianapolis, Indiana it has become a tradition to have quite a lit Thanksgiving – literally. Competitors gather at a high school football field, dress their turkeys in a baby onesie, douse it in lighter fluid and set it on fire, and with the help of a long chain, launch it across the field.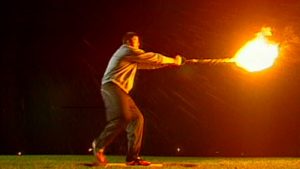 Home Nightmare: The Relish Platter
As confessed on a Thanksgiving themed web article, John Hendrickson, a Thanksgiving enthusiast, shared his family's Thanksgiving tradition of the relish platter. It is a wooden tray with small dishes of different dips and sauces that apparently have no correlation. It features things like celery sticks, olives, apple butter, most likely samples of every sauce and dipping item found in the fridge and pantry at home.