Irvington Boys' Varsity Soccer loses home game to Newark Memorial
Irvington's boys' varsity soccer team played a home league game against Newark Memorial on Jan. 26 in the TAK Fudenna Memorial stadium. Despite the heavy rain that continued throughout the entire game, the two teams pressed onwards. Irvington lost by a score of 0-5, with Newark scoring four goals in the first half and one goal in the second. With this game, Irvington's record this season is now 4-8.
The game was a test of endurance and followed a pattern where players would push on the offensive downfield and then pivot suddenly after the opposing goalkeeper threw the ball across the field. The players were clumped together for the majority of the game and engaged in small skirmishes, most of which occurred within or near the 18-yard box. Players rarely spread out across the field, and the majority of both teams moved together and chased the ball instead of stretching the field and opening play.  
Defender Musashi Avalos (9) felt that despite the game's result, the team had improved overall but had been hindered by chance.
"As a team we carried and passed the ball well, and we had good chances to score but were unlucky," Avalos said. "We can improve on our defense and our ability to be strong on the ball and to communicate. I didn't pass well, and I lost the ball many times because of my passing errors. We did better than last time, but we came up short. We're winning the league in 2021, mark my words."
Attacking midfielder Sungwoo Lee (11) praised the team's endurance and believes that communication is something the team can improve on.
"I think our team did well to not give up and stay in the game when Newark scored on us," Lee said. "We could be better if we communicate more, keep everyone focused, and make more goal opportunities. I think I improved on collaborating with the other center midfielders to make sure that we weren't all going up to attack at the same time. In this game my touches were bad and my physicality wasn't enough. Since Newark is stacked with juniors and seniors,  I believe that we can beat them next year if our team continues to improve."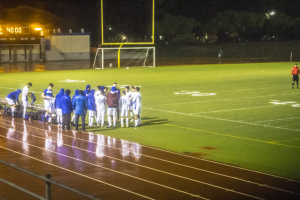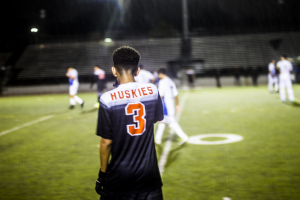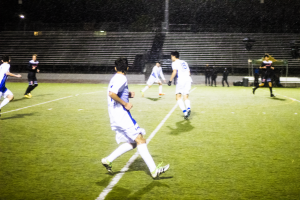 About the Photographer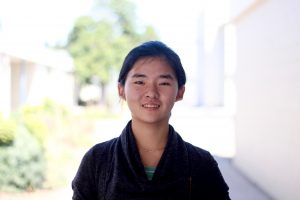 Sabrina Sun, Entertainment Editor
Sabrina S. (11) is the current entertainment editor and has been in The Voice for two years. She was a staff writer and entertainment apprentice in her previous year. She enjoys dreaming about how she would work for The Onion, looking at pictures of food, debating exercise, and being ashamed of hobbies.