Boys' Golf Swings Short at Callippe
The Irvington Boys' Golf team went against Mission San Jose and Washington High School at the Callippe Preserve Golf Course but were not able to win the match. However, the game went very well as Irvington played with confidence and showed improvements in areas that they have been working on.
"It was really good. All our players did a lot better than they usually do so it gave us a lot of confidence and I think it'll make us do well in the next match," says captain Ian Riedel (11), a returning player to boys' golf and an essential part of the team.
Most of the improvement was the team's overall short game, which is putting the ball into the hole from a short distance. Both Riedel and Vikram Senthil (10) agree that short game was one of their shortcomings before.
"We've been working on a lot of short game so I think it really helped during the match because there were a lot of moments when we did well on our short game and it showed up," says Riedel.
Improvements have been met with leaps and bounds as Senthil was last on his team the previous year, but is now the third best.
"I would miss my short game and so I improved on that and improved my score," says Senthil.
The practice paid off, and so Senthil will keep practicing his short game during practice as it is his only weakness as of now. Riedel also gave praise to Vikram for his performance in the match.
The game had many highlights despite being a difficult course. Senthil recalls playing well despite the court difficulty and had success in his short game. Riedel was also impressed by the performance of the team.
"A lot of kids on our team got on the green, which is pretty hard because it was an island green," says Riedel.
Although the Irvington Boys' Golf team did not win the match, the improvement of the team and their overall performance in this match made up for the loss.
About the Writer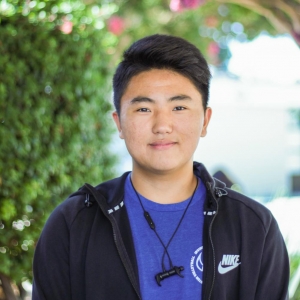 Justin Kim, Graphics Editor
Justin is the graphics editor for Volume 29. It's his third year in the newspaper and all he's done is draw some stuff and make podcasts with his friend Prahalad. Currently, he's worried how he'll make graphics without a drawing tablet.