New Faces: Dual Immersion Schools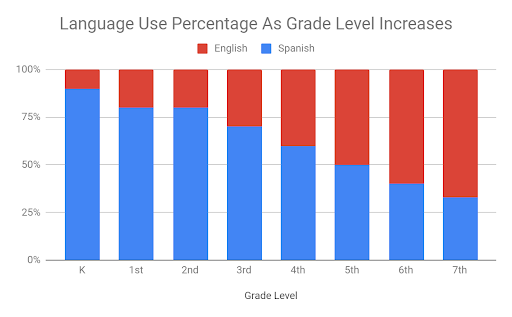 In the Spring of 2018, the first year of Spanish Dual Immersion students graduated from Hopkins Junior High School's Dual Immersion program, some of whom went on to attend Irvington High School in the 2018-2019 school year. The Dual Immersion program fosters bilingualism and puts emphasis on a specific foreign language to cater towards the needs of non-native English speakers.
"The first group of Spanish Dual Immersion students entered high school this year," said Hopkins Principal Corey Brown. "They have been together since first grade and are currently finishing 9th grade. The first group of Mandarin students promotes from 8th grade this year. The goal is to have fully bilingual students in each target language by the time they graduate high school with a Seal of Biliteracy on their diploma."  
Although primarily for non-native English speakers, the Dual Immersion program is open to all students in the district.
"You didn't have to have fluency in Mandarin or Spanish to start the program," said Principal Melsby. "English could be your primary language, but if you wanted that experience, you could enter the program as well."
The Dual Immersion program has not only given students a broader perspective, but it has also greatly strengthened their communication and collaboration skills.
"Sometimes I've been a translator for my family," said Amanda Maria Ledesma, a freshman at Irvington who is part of the first group of students that came from the Hopkins' Dual Immersion school. "They don't really speak English. We'll be out shopping and they won't know how to say something, and I have to step up and talk. I'm switching languages, talking English to the store clerk and talking Spanish to my aunt."
The Spanish Dual Immersion program was established in 1974 at three school sites—Cabrillo, Vallejo Mill and Fremont Elementary Schools. As more students enrolled, the program was extended to additional elementary schools, one of which was Azevada Elementary. However, due to decreasing interest, the new programs were shut down in 2009. In 2010, FUSD stationed a Mandarin Dual Immersion program in Azevada Elementary School, which already had the necessary facilities carried over from the Spanish program. The Dual Immersion schools followed a language plan that started with a heavy reliance on the foreign language and gradually integrated more English into the curriculum. On October 28, 2015, both the Spanish and Mandarin programs were extended into junior high levels at Hopkins.
In 2016, FUSD decided to unify all the Spanish Dual Immersion schools across the district into one program stationed at Marshall Elementary. The district estimates that "the proposed start date will be the 2019-2020 school year."