Girl's Golf Defeats Newark in Close Match
On Monday, October 7, Irvington's girls' golf team competed against Newark in an exciting match. Irvington came out on top with a score of 260 against Newark's 288 despite unfavorable weather and missing players.
Irvington started the match in an unfavorable position, with three of the top players, team captain Mika Jin (12), Sabrina Ma (12), and Phoebe Lai (11) unable to compete. This meant that many of the players from Irvington competing were beginners. On top of this, there was strong wind and hot temperatures further complicating the match and making shot predictions difficult. 
Even though the team had a weak start, they made a strong comeback. Adora Liu's (10) eagle and birdie, which are scores two and one under par respectively, on the two last holes resulted in a turning point in the game and lowered her overall score by 3 points. She scored an overall score of only 37, the lowest score of any player on either team.
The match remained close until the end, with both teams competing with renewed fervor. Ultimately, Irvington defeated Newark with a difference of only 28 points.
"It was a really close match," said Liu. "it was a little worrying since we were missing three of our top players, but the new ones did well. I think we've improved as a team a lot from last year"
The team practices multiple times a week for hours at a time in order to perfect their technique. Most players also practice on their own time on weekends at the course. 
"We probably need to work on our putting skills, but I think our judgment of the course is a lot better than it used to be," said Jacquelyn Chen (9), who earned Irvington's second-lowest score. "Our overall league record is 10-3 right now, including out of league matches".
This game marks another victory in a strong season for the team, who are confident in their chances of making it to state championships.
"The team has been doing really well this season, especially those who haven't been playing for very long. I can see their scores improving so it's great to see the team effort and I'm really proud of my teammates, said Jin.
The Girls' Golf team will compete in MVALS on October 15, 2019 at Skywest Golf Course in Hayward.
About the Writer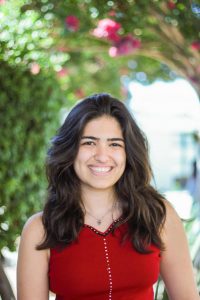 Roxana Shahmohammadi, Opinions editor
Roxana (12) is an Opinions editor and in her second year in The Voice. She is looking forward to playing good cop to Andrew's bad cop. She is very pretentious with tea and her favorite is the pomogeranate one from Trader Joe's.