Andrea Peñaflor – a Loving and Kind-hearted Friend
Andrea Quetzaly Peñaflor, a graduating senior this year, sadly passed away from a tragic car accident. On the evening of April 17, Andrea and her boyfriend were driving in San Francisco when the passenger side of the car was struck by another vehicle. She was taken to a nearby hospital where she fought for her life. She lost her battle on the afternoon of April 20th.
"People love her so much because she was always there for people," Señor Alberto Ballado, a close mentor, said. "She was always willing to smile and help anybody who needed her help. She was loved by a lot of people."
Andrea was a loving and charismatic person, and a pillar in the Irvington Latino community. Participating in an outside professional folklórico group, Andrea shone.
"She danced at the Warriors game halftime show. She was so proud of what she did, and I was proud of her for dancing with such talent," Amanda Ledesma (12), her best friend, mentioned.
Andrea met a lot of people that grew close to her quickly over the years. "She's my best friend. We loved each other. It was like she was my soulmate," reminisced Ledesma. As Andrea met people over her high school career, she made long-lasting friendships that will stay with them forever.
Andrea had a kind heart and a confident personality. She was a very approachable and organized person. She loved her family and would always work to be on good terms with them. "She was a very great aunt." Dorian Coronado (12), a close family friend, expressed. "She loved to spend time with her nephews and she would always introduce them to me. She was extremely family-oriented." Though her life was short, Andrea left an impression on the people she surrounded herself with. She was a role model to those around her.
"She's always been a person of comfort to me. She's been one of my longest friendships," Dianna Esquivias (12), a friend since Andrea's elementary school days, recounted. "Andrea taught me how to be more confident as a person. She always taught me to push my limits and to grow."
Andrea was the person that gave you a shoulder to cry on when you needed it. She was there for the people that she loved. "She always knew what to say at the right times. She was very good at listening and knowing what to say, especially when I would go to talk to her about things. She would always say what I needed to hear," Coronado described.
Not only did she shine in a way that influenced her friends but she also influenced her teachers. "We can not always take everything too seriously. We can always enjoy everything and relax when things get stressful," said Sn.Ballado.
Andrea was a strong-willed, loving spirit that changed the lives of the people around her, and she will be missed.
About the Contributor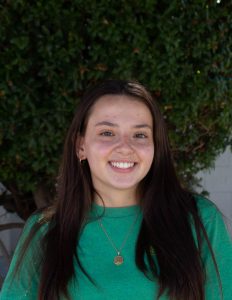 Lynnette Chavez, Photo Editor
Lynnette (11) is a second-year photo editor for The Voice Vol. 31. Other than working on the paper, you can find her playing volleyball, baking, stargazing, or hanging with her friends. She is a Utah-born Bay Area transplant. She embraces her Hispanic culture through Latin music, dancing, and MEChA.  Find her on Instagram (@lynnette.chavez)