Irvington Goes Green in Costa Rica
Irvington biology trip to Costa Rica opens eyes 
This past summer, from August 20th to August 29th, fifteen students along with biology teachers Ms. Steward and Ms. Lynn, went to Costa Rica on a biological trip. They visited three biological centers, spending two or three nights each at Palo Verde Biological Station, La Selva Biological Station, and Las Cruces Biological Station. The focus of the trip was too see what real biologist do in the field.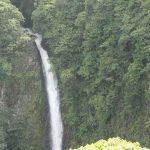 Students saw numerous tourist sights such as the city La Fortuna, a hot river, a coffee shop called "The Sleeping Indian," Manuel Antonio, and others. The students visited all seven provinces of Costa Rica.
"Going to Costa Rica really opened our eyes to the environment we live in and to a majestic country of beautiful landscapes and wonderful culture," said Thao Le. "For those 9 days, we became a family and experienced life in the field of biology."
Junior Disha Goel has similar sentiments about the trip: "I just have to say that the trip was amazing! I got to learn so much and went with the best group of people and best teachers. I am really happy I got this opportunity and would do it again any day. Our tour guides were amazing too!"
The students spent hours in the forest doing research with biologists and learning how biologists work.