Irvington breaks ground for new 12 classroom building
By Shayna Kapadia |
Student Life Editor
The groundbreaking ceremony, held behind the P-Wing on May 13, marked the beginning of efforts to construct a 12-classroom science building, one of the upgrades and repairs promised by the Measure E bond passed in June 2014. The project is expected to begin after the school year ends and is anticipated to finish between December 2015 and January 2016. Groundbreakings at Azevada Elementary School, Mattos Elementary School, and Warm Springs Elementary School were said to occur within the week as well.
"This is our first important groundbreaking," superintendent Dr. James Morris said. "This is going to be the signature project of the district, and it's going to be the first one, which is pretty cool."
The ceremony, which lasted about a half an hour, included speeches from Principal Smoot, Fremont Board of Education President Desrie Campbell, next year's ASB Student Body President Savannah Fox, Facilities Director Therese Gain, and Superintendent James Morris. The speakers thanked Fremont citizens, some 400 participants in the Long Range Facility Plan process, the facilities project team, IHS Site Committee, the construction team, and other contributors to this project.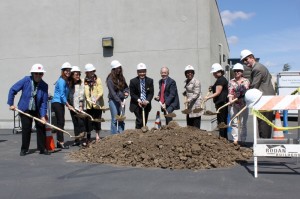 "This is a very exciting time for us," Ms. Campbell said during the ceremony. "Our facilities make a big impact on how we educate our students, and this is an example of what we hope to accomplish throughout the district."