ASG Town Hall Recap
On Tuesday Dec. 8, at 8pm, ASG live-streamed its first-ever Town Hall on YouTube showcasing the candidates' campaigns and policies, with a turnout rate of approximately 29 attendees. Below is the IHS Voice's recap of the event.
Disclaimer: This recap was condensed for clarity and length. To get the candidates' full responses, watch the full town hall here: ihsvikings.org/townhall
What are you going to do to make sure that you grow as a leader?
Raj:
Collect feedback from classmates and take them into account
Maansi:
Ask for people's thoughts before taking action
Believes in self reflection
Nosheen:
Ask people about their opinions on her actions
Make sure to implement the suggestions that people give her
What experience do you have in the ASG class?
Maansi:
Current IHS Visualizations Director
Led IHS Winter Ball and worked with publicity last year
Led Mask Drive in the summer and worked with several committees this year
Nosheen:
Joined ASG as Freshman Class Officer and Sophomore Class Officer
ASG Vice President this year and led the class officers
Transitioned bench-building to an online platform
Raj:
Current Junior Class Officer
First year in ASG, planned fundraisers and events
Helped with transition of bench-building to an online platform
What students do you think ASG is not reaching out to?
Nosheen:
Will work with Yearbook and Voice to reach out to more students and clubs
Reach out to smaller clubs to collaborate on events, so they can get more recognition
Raj:
Many Irvington students don't have certain social media
Next year, use physical flyers and forms to reach out to people who don't use social media
Maansi:
Study the interests of the student body and create events that are attracting more people
Reach out to more clubs and make an effort to recognize them
What are some specific projects you want to implement?
Raj:
Create centralized feedback form because emphasizing feedback is important and reaches underrepresented students
Work with Class Officers to create a feedback page for them
Maansi:
Change the planning format
Feedback forms usually can't be applied until the next year
Will take time in the beginning of the school year to learn what type of events students want and apply them to the schedule
Work with other clubs like The Voice to learn about other clubs and student groups to reach out to
Nosheen:
Recognize different clubs and and their achievements during announcements and rallies
Started Viking Pulse this year and addressed a lot of mental health issues in the Irvington community
Students facing systemic issues can come light with Viking Pulse
Three words that capture your leadership style:
Maansi:
Passion: helped start some events that ASG held, like the Mask Drive.
Purpose: ASG can do a lot with their resources and use their platform wisely to bring in new ideas
Togetherness: work with people in and outside of her class to make an impact
Nosheen:
Connections: foster positive work environments and help people reach out to her
Non-Positional: there's no limit to what someone can do, anyone can have a big impact on ASG
Impactful: make sure that whatever she does has an impact
Raj:
Self-improvement: you can't grow if you can't get feedback
Service-based: loves giving back to the school and wants happy environment that makes Irvington as great as possible
Empowerment: help all ASG members and school body
Biggest struggle as a leader?
Nosheen:
Maintaining stamina
Strong in the beginning of the year, but would burn out easily
Learn to prioritize tasks without getting stressed out
Being VP has helped prepare for the stresses of being president
Raj:
Time management
Tends to procrastinate and overwhelm himself before something is due
Overcame this by keeping a whiteboard to check upcoming events
Maansi:
Easy for people to walk over her
Learned how to be assertive as an executive council member
Realized that she was there to represent ASG and the student body, not for herself
Improving school spirit in case school continues to be virtual:
Raj:
Use feedback from this year to carry out events next year
Use and implement data and giving clubs shout-outs
Maansi:
ASG's service events have been drawing a lot of people
Think about what to do as they go forward because there are certain events that attract more people
Nosheen:
Executive council didn't know how to do things this year because the future was uncertain
Executive council can foresee better this year and can decide if an event will be virtual or in-person with more experience
They know what is successful and what is not
Only for Nosheen: Why should you be president for reasons other than experience?
Can foster relationships and motivate people
Wants people to know that she's there with students, and that she's not above them
Only for VP candidates: What can you take from your experience that will help class officers?
Maansi:
Gained experience leading the class as a member of executive council
Helped with class council and was an active participant with bench
Raj:
Junior Class Officer
Joined ASG recently so understands student perspective that is independent of ASG influence
Can help the class officers through experience and behind-the-scenes knowledge from being a class officer
About the Contributor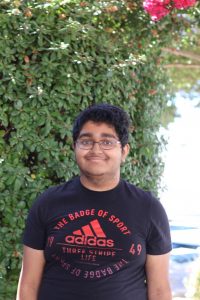 Aditya Bashyam, Humor Editor
Aditya Bashyam(11) is the co-editor of The Voice's Humor section. He joined The Voice to gain a deeper understanding of the student community around him and to undergo a grueling and deathly quest to discover Irvington's secrets and finally [redacted]. He enjoys singing Indian classical music, hate-watching terrible movies, and reading.