Irvington To Hold An In-Person Graduation
On June 14th, Irvington High School will hold its graduation at Tak Fudenna Stadium. Unlike last year, this graduation will be held in-person, with some restrictions due to COVID-19. Irvington will be using the CDC guidelines as of May 19th during this event. Administration foresees this graduation being very similar to previous in-person graduations, except graduating students will be allowed to bring a maximum of two guests.
"There will be a symptom checker. There's a couple different options as to how that will be done," Principal Melsby said. "For the guests coming in the symptom checker, more than likely will be a large poster outside of the gates attack. We [might have] verbal confirmation that there are no symptoms. This is the same kind of symptom checker that could be online."
In terms of the students themselves, they are all expected to wear masks. Students will also be socially distanced while seated. "Typically, the graduates are sitting close together, maybe 40 yards of seats," Melsby explained. "[Now], it'll be more or less 60 to 70 yards, when we extend everything. So there'll be a little more walking around the seats to get to your seat or to leave your row. But other than that, it will look the same."
Students will still have a nearly traditional graduation, but with a few minor changes to the ceremony itself. "Because we don't want too many people sharing the same microphone, there will be a limit on speeches. But the program, the processional, the welcome [will remain]. There'll be a couple of speeches from different people," Melsby said. "We anticipate that when you cross the stage, you'll get the diploma cover. And then as you walk back toward your original seat, you'll pick up your actual diploma from your attendance clerk."
As per tradition and to keep processions uniform, students will not be able to decorate their caps for the ceremony.
The Irvington administration does not see any changes with how graduation will proceed for the foreseeable future. If California does drop more restrictions, the graduation will proceed with the guidelines that were in place on May 19th.
About the Contributor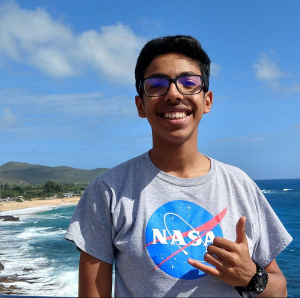 Prahalad Chari, Broadcast Manager
Prahalad (12) is the broadcast manager for The Voice, and this is his third year on the staff. He has been running the podcast "The Voicebox" for two years and won't stop talking about its "two international listeners." A self-identified weeb, he stays up past the sad boi hours binging any show he can find. This year, since everything is online, he hopes to seize the chance to stage a coup and have broadcast take over the Voice because it's the best section ever. Period.