2012 Presidential Candidates Debate
Candidate Romney and President Obama debate before the November elections
By Rashi Saxena
As the 2012 presidential elections come nearer and nearer, ex-Gov. Mitt Romney and incumbent President Barack Obama, the republican and democratic candidates, come together to debate in the famous presidential debates to discuss their views on the important issues concerning our nation.\
The first debate was held on October 3, 2012, at University of Denver, Colorado. The focus of the debate was on foreign and domestic policy with some other topics. The moderator posed different questions for each topic and each candidate had 2 minutes to answer. Romney talked about Obama's four years as president while Obama focused on Romney's 5-point plan.
The second debate was held on October 16, 2012 at Hofstra University, New York. This debate dealt with issues of domestic and economic policy. This time, chosen citizens were given the chance to ask their own questions. Both candidates tried their best to answer; however, this time, Obama came out as the winner of the debate.
The third debate was held on October 22, 2012, at Lynn University in Boca Raton, Florida. This debate also was on foreign policy and was in the same format as the first debate. Many people viewed Obama as the more aggressive candidate but each candidate gave a commendable performance.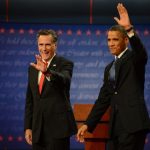 Each debate plays a vital role in helping voters decide which candidate to choose. As of now the polls are split almost evenly between the two candidates.