Music For Manhattan Sets A New Record
Local benefit concert raises over $1500
By Sophia Chan
On Friday, December 21, IHS Resonance Club's benefit concert, Music For Manhattan, raised $1539 for OccupySandy, a non-profit organization focused on helping those greatly affected by the 2012 Superstorm Sandy. This annual benefit concert always has a variety of musical acts, including solo and duet singers, a capella groups, rock bands, instrumental ensembles, and piano players.
The night started out at 7pm in Valhalla with seniors Anh Tran and Matt Hong singing a duet called "Ease My Mind," with senior Aditya Kumar rapping. For the rest of the night, Matt and Aditya played MC and introduced acts.  The first act included junior Minji Kim's viola solo of Cecil Forsyth's "Concerto in g minor," sophomores Kelly Chen and Diana Perez's cover of Justin Bieber's "Mistletoe," and sophomore Naier Wang's self-composed song "Falling Rain." Other notable performaces in the first act were eighth grader Liberty Forster's strong "Different" solo, seventh grader Simon Tao's "Piano Sonata in E Flat Major, Hob.16 No. 52", and senior Sophia Chan's raspy rendition of Ed Sheeran's "A Team."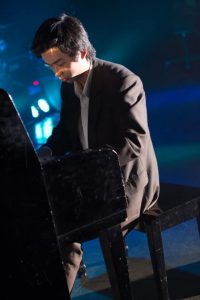 In the second act, senior Anh Tran accompanied both senior Arianna Yeh in "Safe and Sound" and junior David Kang in "Rhythm of Love." Fabiha Zaman sang her heart out in Mariah Carey's "All I Want For Christmas," while freshman Tiffany Lin played "Raindance" on the marimba.  MCs Matt and Aditya jokingly introduced senior Josh Lin as a "man who got a six on all the AP tests and invented two more," "when he goes to a restaurant, the waitress tips him," "who scored a 2500 on the SAT," and "who is the first person to drown a shark." He jokingly replied that "everything they just said..is all true," but also added that he was playing Debussy's "Reflects dans l'Eau."
Throughout the concert, there were, in all, four instrumental ensembles, two rock bands, and one a capella group. In the first act, freshman Nina Chang, junior Brandon Ding, freshman Velvia Lau, junior Sean Lin, and senior Patrick Mu played as flute quintet to Johann Pachelbel 's "Canon in D Major." Nina and Velvia play again in the second act as a flute duet to Francesco Geminiani's "Duet in C Major-Allegretto." Also in the second act, Irvington's Jazz Ensemble brought the audience back from intermission with Stevie Wonder's "Superstition."
While junior Devin Sigler, sophomore Jason Hebert, alumni Kelsey Findlay, and alumni Alex Quick rocked out to Guns N' Roses' "Sweet Child of Mine" in the first act, senior rock band group Gabriel Block, Christian Setiawan, Brian Zucker literally blew out all of the sound backstage in the second act with Red Hot Chili Pepper's "Tell Me Baby." Senior a capella group Sexy Pitches concluded the night with their version of "Jingle Bell Rock" with Aviv Redlich beatboxing in the second half of the song.
"The whole experience, from sketching out the ideas during advisory with my fellow officers to the terrific concert itself, is just an outstanding representation of the Irvington community's altruistic virtues," commented IHS Resonance Club President Andrew Wang. "The whole atmosphere of the concert—the outstanding musicians performing in the benefit concert, the cheers of the audience, IHS Stagecraft helping out with lights and sound—is something that I hope would continue as a tradition in Irvington High School's future."