Lenaea High School Theatre Festival Is a Surprisingly Huge Success
Irvington's theater department scores big in annual festival
By Shayna Kapadia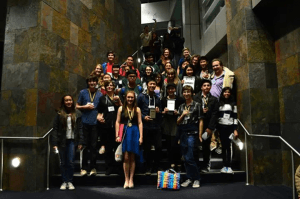 The Lenaea High School Theatre Festival was held from January 31st to February 1st in Sacramento where Irvington students received many awards for their various performances in different areas of theater. The festival was held at the Harris Center for the arts at Folsom Lake College.
"All the 58 schools came to the competition and they performed…one acts, monologues, scenes, musical theater, and compositions," said sophomore Emily Kowalski, who won gold in the category of musical theater for singing "Part of Your World" from Disney's The Little Mermaid.
In addition to being a foreground for young performers to display their talents, The Lenaea Theatre Festival is a platform for the students to grow and improve their performance skills. "There are a whole bunch of workshops…" explained sophomore Molly O'Donnell. "It's a great experience to not only learn as an actor but a person."
Despite the fact that many awards were given, the Lenaea Theatre Festival is more of a learning experience. "It's less of a competition and more of a showcase," says junior Zachary Lew.  "and if you do really well then they give you a small medal."
When asked about how Irvington did compared to other schools, Mr. DiLorenzo responded, "We did something really special by adapting our two and a half hour play [Midsummer's Night Dream: A Chinese Fable] to forty five minutes and bringing our entire set up there with us…We did something that was beyond their expectations, and our expectations…The kids did amazing."
Not only did they shorten the play, sophomore Molly O'Donnell and senior Dylan Golden composed an original monologue in iambic pentameter to explain the part of the play they cut out.
This year was the first time Mr. DiLorenzo took his students to the Lenaea Theatre Festival. He explained how it usually takes about two years to understand the competition and how he should have his students prepare for it. "I never really have high expectations because I never know what's going to happen…" said Mr. DiLorenzo, "but I knew that the pieces we were bringing were very strong". However, Mr. DiLorenzo was "pleasantly surprised by the many awards".
The Lenaea Theatre Festival was an overall success and "truly was a successful weekend" as in the words of Mr. DiLorenzo. The awards given to our students are listed below.
Sliver in One Act for Midsummer Night's Dream
Best Actor in a One Act: Nick Saud
Gold in musical theatre: Emily Kowalski
Silver in musical theatre: Ally Abonodor
Bronze in duo scenes: Karin Gandler and Dylan Golden
Respondents Choice: Emily Kowalski
Respondents Choice: Karin Gandler and Dylan Golden
Synergy Award: Irvington High School