FUSD's Recent Security Issues
On Aug. 26, a wave of emailed anonymous bomb threats targeted 13 FUSD schools, most being elementary schools. This threat was deemed non-credible by the Fremont Police Department. 
The next set of threats came just days later on Aug. 31 and Sept. 1. These threats were aimed at 11 FUSD schools in the same format as the first, again targeting multiple elementary schools, as well as Irvington High School. Due to the similarity in the message as well as timing, the second threat was deemed non-credible as well.
Upon receiving the first threat, the 13 campuses were closed and food service was moved to an alternate location. The second time, no campuses were closed.
Threats like these are very uncommon, so when they do occur, they are handled carefully. "Whenever a threat comes to [FUSD], [they] immediately contact the district office and the Fremont Police Department," said Irvington Principal Amanda Melsby. "Fremont Police [would] investigate and determine the credibility of the threat. In the event that it is credible, we would follow district protocol."
In addition to these threats, Irvington's marching band trailer was stolen over the summer. Mr. Rodda, the band director, was contacted about this theft on Aug. 17. When the trailer was returned, it had been discovered that the perpetrator used sledgehammers to break in. Fortunately, nothing valuable was stolen.
"We thought there was stuff in there [like uniforms]," said Mr. Rodda. "But we found it later so all they got was spare tires."
Irvington has faced security issues in the past; on Sept. 16, 2019, the trophy case in the senior hallway was vandalized and broken into. While Irvington has made efforts to decrease the risk of incidents such as these, there is no foolproof way to stop thefts or vandalism from happening.
In order to prevent future thefts, Irvington is looking into adding a gate at the back of the school near the main parking lot, as well as at the front near the library. A wheel lock is also being placed on the trailer.
Despite the theft and destruction of the trailer, the incident brought people closer together.
"It was nice to see how much the community cared and wanted to support us," said Isabelle Hsu (10). "I even have people who I haven't talked to for a year and live outside the area ask how they could help."
About the Writer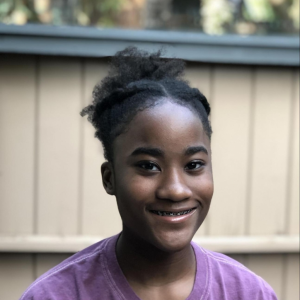 Mykal Mashack, Staff Writer
Mykal (10) is a first-year staff writer for The Voice. She has a deep love for writing and hopes that The Voice will be a great way to gain experience and meet new people. If she's not busy reading, writing, or drawing, she's probably badly strumming away at her ukulele or stressing over chemistry homework. She also has an unhealthy obsession with ducks and will love you forever if you buy her one.