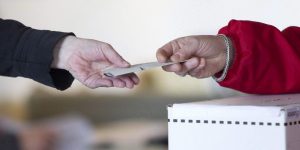 Implementing the new "blind ballot" initiative in this year's homecoming court is a great idea
By Hugo Vera
It was Friday the 13th, 2013. In the Irvington Student Union, more than 40 Homecoming Court nominees flocked to Mr. Willer's classroom to await further instructions and details about the upcoming Homecoming Court Election. I was there in attendance, as were many of my fellow seniors who were nominated for their academics, athleticism, good looks, popularity, or a mixture of all of them. As we were being briefed on how the voting for Homecoming King and Queen would work, it was mentioned by Homecoming Court Commissioner Lindsey Yuan that this year's election would operate on a "blind ballot". If you are confused by what this means allow me to explain. In past Homecoming Court elections, the ballot choices included the name on the nominee, and below that, their high-school extra-curricular achievements. Now, in this new "blind ballot" measure suggested my ASB advisor Mr. Willer, only the achievements of the nominee will be listed and their individual names will be replaced by numbers. Upon hearing this, many of my fellow nominees burst into an outrage.
Within second of hearing this, nominees began to say, "But having your name on the ballot is the only way for your supporters to vote for you" or "That's unfair! People know me for more than my clubs and sports!"
Clearly, this measure did not sit well with everyone. However, I believe that this measure is perfectly logical and can actually provide Irvington with a non-bias way of selecting a new Homecoming King and Queen. Think about it; in every election (at least in high school) you have your flashy/popular candidates who everyone already knows, and then you have your less-known "average-joe" candidates who are everywhere. Obviously, if the names of the more-popular candidates are provided, then it makes perfect sense that they would receive more votes and win the theoretical election. However, having a "blind ballot" election means that voters will now have to vote based on the quality of one's resume. For all you know, that "popular someone" you wish to vote more may actually have a terrible resume when compared to that of an "average-joe". Perhaps many of my fellow candidates do not want this "blind ballot" implemented because of the fear that the accomplishments of others will eclipse the reputations that they have built.
This is a very polarized issue. I, along with about half of the senior-class approve of this tactic, whereas the other half strongly opposes it. To get a better perspective on this debate, I turned to best person I could, Mr. Willer.
"This is a very tricky situation", said Mr. Willer. "The blind-ballot idea was introduced from concerns we [ASB] got from parents and feedback from previous years that suggested that only a person's accomplishments [and not just their popularity] should earn them the title of Homecoming King or Queen. But you also have to take into mind, that the nominees are neither allowed nor denied the right to campaign for themselves. A nominee can very well say Vote for me! and have their name become a deciding factor when voting begins".
It is very easy to understand why ASB feels that such a measure is necessary, as well as it is understandable that many nominees want their names to be taken into consideration. I personally support this new initiative, but for those who oppose the "blind-ballot", there is hope.
"There's no need to freak out, everyone. This is merely an idea, and it is tentative", said Homecoming Elections Commissioner Lindsey Yuan on the matter. And as one more piece of evidence to imply that this measure is not for certain, Mr. Willer himself said "This is ASB. Nothing is set in stone".