On Par for Berkeley Golf: Adora Liu
Squared up to the tee, she swings her club and watches the ball soar into the distance. Golfing since the age of 6, Adora Liu (12) discovered a passion for this sport early on, and recently committed to play women's golf for UC Berkeley. She was introduced to the sport by her grandfather, who mentored her on and off the field.
"He's the one who took me to the range everyday, and he's the one who built me to where I am right now," Liu said.
Regardless of wins or losses, Adora's grandfather supported her journey and imparted valuable lessons about mental health, sportsmanship, and hardwork. While she faced periods of burnout and fatigue, Adora learned to overcome it by prioritizing her passion for the game and her emotional wellbeing.
"I had a little slump where I couldn't hit the ball, and my feeling was off. But the one thing that helped me was taking a break. It helped clear my mind, and it felt refreshing to get back and realize that I actually love playing golf."
Despite competing in an individual sport, Adora found a support system of teammates and friends that helped her remain grounded and motivated to continue playing for Irvington golf. Developing a rigorous work ethic and attending lengthy practices all culminated in winning the 2021 Girl's Championship for the American Junior Golf Association. Prizing this moment, Adora earned first place and scored her lowest round of 8 under. Ending the season with 2,361 points, Adora also won the Junior Tour of Northern California Girls' Player of the Year. By winning four tournaments in total (the NCGA Junior Championship, Fall Series II and III Championships, and the Holiday Series III Championship) Adora cemented her Player of the Year legacy.
"I practiced around three to four hours each day, which helped me prepare and gain confidence in my own abilities." After celebrating her most monumental golf win, the Girl's Championship, Adora contacted multiple colleges and was offered a scholarship from schools such as UC Davis, UT Austin, and UC Berkeley.
"Berkeley is the best school out of all the offers that I got, and it's very close to home. Being only 40 minutes away, I love that, so Berkeley was my top choice."
Eager to join the Cal family, Adora is looking forward to joining her new team, and playing alongside Mika Jin, a former teammate and current Berkeley student. Having formed a friendship with Mika through Irvington golf, Adora is excited to reunite with her on the field again.
"We both played competitive golf, so we talked often. She's a really great friend, and I love her. Mika is truly supportive, and I'm just glad to be with her again at Cal."
Ready to experience everything Berkeley golf has to offer, Adora is grateful to pursue her passion for this sport, and continue her decade-long career at the collegiate level.
About the Contributor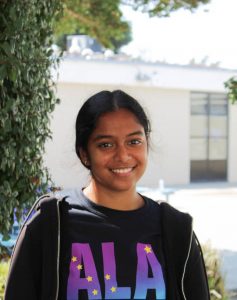 Riya Parekh, Staff Writer
Riya (12) is excited to be a first year staff writer for the Voice. She joined journalism to interview diverse people and eat good food on workdays. In her free time, Riya enjoys badgering her family members, eating Taco Bell, and spending time in her backyard.