Jacob Doty Recruited for Baseball at Pepperdine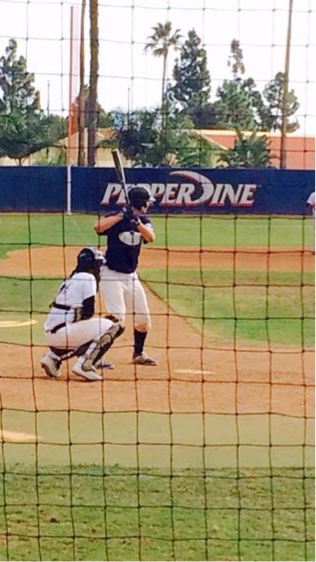 By Enya Kuo | Editor-in-Chief
Senior Jacob Doty, who has been playing baseball since he was 12, was recruited to play for Pepperdine University in Malibu, California. Last year, Pepperdine's baseball was ranked 12th in the nation, and Doty will be playing catcher for the Division I private university.
How did you get recruited?
"While playing for a competitive summer team called Trosky Baseball, I was seen by the Pepperdine baseball recruiting coordinator. After he saw me play, we exchanged emails and phone calls, then eventually they invited me down to the university for a visit. I toured the school and its facilities, and I played in a camp that they held. At the end of the second day, they made the offer, and the next day I called and accepted that offer."
What are your goals for college athletics?
"My goals for college athletics are to work as hard as I possibly can and give both myself and my team the best opportunity to succeed both on and off the field.
How will you be preparing before the season starts?
"I will be playing with the Trosky Baseball 'Legacy' team, which is comprised of Trosky's committed players who are on their way to college ball. The team itself is designed to help prepare me for college. I will also be on a strength and conditioning program with a local trainer from Club Sport. Other than the team and the strength and conditioning program, I will most likely be on some sort of "diet" in order to put on 15-20 pounds of muscle, hopefully. The only other thing I will be doing is being on a throwing program in order to strengthen my arm."
What will you major in at Pepperdine?
I'm going in undeclared but am thinking about majoring in either psychology, business or finance.