Nicole Pomba: Softball
By Simran Moza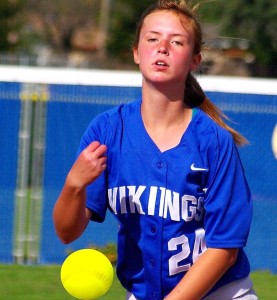 1.) When did you first start softball, how did you get into the sport initially, and how long have you been playing?
I started playing when I was 4 years old, so I've been playing for 12 years.
2.) How do you prepare yourself before a game, do you need anything special/a special routine?
I normally listen to the same song "cocky" by Kid Rock to get me pumped up.
3.) How often do you train or practice each week? Where?
I practice 5 days a week for high school. Thursdays I have private lessons for pitching and Sundays I have tournament practice at Valley Christian.
4.) Who is your role model?
My older sister Amanda is my role model. She pushes me to work harder and to never lose confidence and to never give up on my dreams.
5.) What do you consider your biggest accomplishment or best memory in your sport?
My best memory is the very first inning I ever got to pitch when I was 7. I struck two people out, and from that moment on my love for pitching evolved.
6.) Any awards/ accolades you have earned (anything you would like to share that you are proud of)?
I am #2 at MVALS for most strikeouts.
7.) Do you plan to continue/ any goals for the future?
I plan to get a scholarship to a 4 year college, preferably Oklahoma.
8.) Do you play in any leagues outside of school?
I play for the 16U San Jose synergy A Ball team.
9.) Favorite part of the sport?
My favorite part is making new lifelong friends and my coaches John and Sarah for always believing in me and always thinking positive of me. They push me harder because they believe that I can make it to the next level.