Irvington to Perform at King Charles' Coronation
King Charles is desperate for performers to perform at his coronation on May 6th. Unfortunately, the entire world basically hates him. It could be because he cheated on Princess Diana or that he's a colonizer. After being rejected by Harry Styles, Ed Sheeran, Elton John, and the Spice Girls, he made a series of frantic calls to Ms. Olsen begging her to convince Irvington High School to perform.
Why Irvington out of all places? King Charles is obviously an avid reader of The Voice as all great politicians and leaders of countries tend to be. Upon reading countless entertainment and student life pieces, he was impressed by the artistic ability and talent of our student body.
After sending the administration hundreds of emails and calling over a thousand times, he finally received a response 2 months later. The administration apologized for the delay, citing meetings, callings, and dealing with a backlog of "truant" seniors as reasons for the delay. Eventually, they agreed that, as an art magnet school, most of Irvington's students are very artistically inclined and want to explore careers within the arts and humanities instead of STEM.
Freshmen, Sophomores, Juniors, and Seniors have set aside their respective class beef to form a 2000+ people choir. Already, this has resulted in several casualties, including basically every fight that has been started on campus.
Students were given the creative liberty to choose the song list, but they were told to make sure the songs fit the vibe of a King's coronation. As Americans, many students were unaware of British culture and didn't want to accidentally step into the realm of cultural appropriation. Upon much deliberation, the song list was decided. It features many hit songs such as, "London Boy" by Taylor Swift, "Royals" by Lorde, "London Bridge is Falling Down," "Its Everyday Bro" by Jake Paul and team 10, and "you should see me in a crown" by Billie Eilish. "We formed an ASB committee and spent weeks along with half of our budget trying to choose these songs. I think we did a fantastic job considering that all of these song choices feature references to popular British things and the monarchy," Harry Williams (12) explained.
Many students and parents expressed concerns about missing AP testing, however, they were quickly consoled by the fact this performance would look significantly better on college applications. Many juniors are already practicing asking the newly coronated King to write their letters of recommendation.
The administration, teachers, and students are all ecstatic that Irvington will finally be covered in the news for something positive instead of cars driving into the french class or the high rates of depression and anxiety. "Wow, I can't wait to be away from Irvington for a week. Oh and it's also cool that we get to perform for royalty or whatever," exclaimed Katherine Meghan (9).
Make sure to tune into BBC on May 6th to listen to the performance!
About the Contributor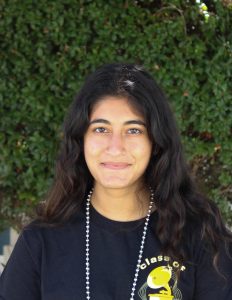 Mahika Modi, Web Editor
Mahika Modi (12) is excited to be this year's web editor. In her free time, she likes to binge-watch random TV shows, hang out with her friends, and stay up till ungodly hours scrolling through tik tok. Her other hobbies include making Spotify playlists for almost every occasion, and she hopes to spend her weekends making day trips to go skiing.