Student Spotlight: Sharman Tan
Sharman Tan's artistic abilities thrive in school classes
By Rashi Saxena | A&E Editor
How did you first get involved with art?
When I was much younger—in early elementary school—my mother sent me to an art class that I attended for a couple of days. The only benefit I gained from the class was that I learned that I could use color pencils to create realistic drawings—the class had required $50 Prismacolor pencils, a very expensive but high quality brand of color pencils, and I use them to this day.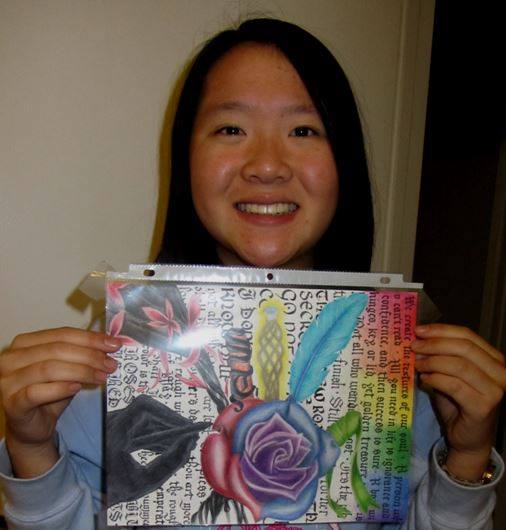 What obstacles have you faced with your art?
Art has always been something for me to do in school: even though I have loved to sketch things around me since elementary school, I was never really allowed to do art at home—homework mattered more. That's why I loved and took advantage of every assignment that involved art. It meant an excuse for me to work on art on home without being reprimanded for doing "pointless things that waste time."
How has pursing art in school helped you hone your talent?
I was restless to take my first art class, Art I with Mrs. Barrett, this year as an elective. After completing various art assignments, I have come to believe in my own creativity and ability to express my art in a unique way. Art class allows me to fully be engaged in producing a work of art; before, when I had to complete assignments with art elements for classes such as English or history, I was forced to work under a strict deadline, and I was also forced to comply with the purpose of the academic assignment. Mrs. Barrett's Art I class provides me the environment, encouragement, and flexibility to learn to improve my artistic ability.
How has your perception of your art changed and how has it allowed you to grow?
Although I accepted that my art abilities were satisfactory in the past, I never acknowledged that I had any creativity. Because I had always drawn realism, rendering images or objects around me, I believed that I had no "voice" in my art and that I was something like a copier. I no longer believe that I am simply a copier—I think now that I can call myself a creator. The color, technique, flexibility, and beauty of art inspire me, and I cannot say any art of mine is complete unless I am completely satisfied with the work I have put into it and what it has developed into.