Every Single Student Starts a Club-WORLD PEACE!
March 31, 2022. A day that will forever live in the minds of all the world's inhabitants. The day that put Irvington High School on the map. The day that every single student on the entire campus founded a nonprofit or club. Yes, you read that right. Every. Single. One. Every single original idea on the face of planet Earth had immediately been claimed by our wonderful students at Irvington High . In a single day, every student had an organization to their name. Experts estimate college acceptance rates going through the roof! Well, there were other, unintended effects, and they will shock you…
World peace. In just one day, Irvington students easily surpassed the United Nations' efforts to achieve it. Don't believe me? John Smith(9) created the nonprofit: "Save The World", where he posted peace signs on their Instagram page and urged other members of the club to join in. After 10 members posted peace signs on Instagram, the world was massively intrigued. World leaders called each other, wept, and apologized for atrocities they committed to each other's countries. An emergency summit was held, where these leaders proclaimed their love for each other and declared WORLD PEACE! Then they held a massive party (which I also joined. It was awesome).
But that wasn't all. One of the most important nonprofits in the history of nonprofits was also founded on the blessed 31st as well: The Fund for Billionaire Houses in Calabasas. You may be shocked to find that no human being with a net worth of more than 999 million dollars lives in Calabasas! Maggie Notfakestudent(12) who made the nonprofit was justifiably enraged; billionaires should also monopolize the entire wealthy real estate market, not just almost every city in the world! So immediately, she requested donations to move a billionaire into the wonderful town. Within 5 hours, a house was built and Elon Musk moved in! That night, hundreds of billionaires flew out in their gas-guzzling private jets and hosted a massive party–all thanks to this absolutely ingenious nonprofit.
We at the Irvington Voice interviewed one of these young go-getters–Ekaf Tneduts (11), president of the "Give Money to Other People " nonprofit. Tneduts founded a nonprofit dedicated to raising money for every elective at school. His campaign was so successful that Elon Musk donated $1 billion to Irvington's elective program. This cash injection allowed every member of Irvington's marching band to buy much-needed sound mufflers. Students outside the band proclaimed it to be the greatest investment in history, and Tneduts was awarded the Nobel Peace Prize. Tneduts also stated, "I love all Irvington students. Today I did my duty, and the world recognized that."
We at the Irvington Voice would also like to clarify we don't have beef with the Irvington Marching Band. We love you guys.
About the Contributor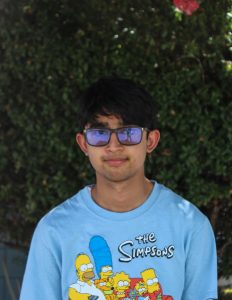 Ojas Vatsyayan, Sports Editor
Ojas Vatsyayan(11) is a second-year staff member of the Voice, this time as Sports Editor. He loves reading, listening to music, and playing tennis. If he's not doing those things, you'll probably find him outside doing something or the other. He wants to learn how to drive, but his mom won't let him. Oh, well.