VOID WEEKLY: THE KIM-YE-SKETE LOG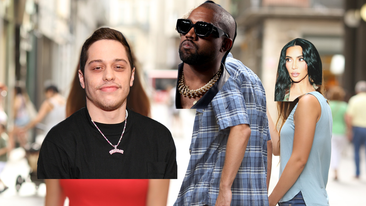 KANYE AND KIM: ROCKY SITUATION?
For the past few years, Kim and Kanye's situation has been rocky, but the avalanche is in full swing now. Kanye has reportedly been throwing rocks at a picture of Kim and Pete, who is more popularly known by the nickname Skete, for the past few weeks! Here at VOID Weekly, we've gotten a first hand view at Kanye's meltdown!
Even after finding love again with Uncat Jahmz star Julia Fox, Ye seems to be a little out of it. An eyewitness reported a raging Kanye throwing every pebble he possibly could at this image, screaming, "SKETE! THIS ISN'T OVER! I WANT MY FAMILY BACK! FIND GOD!", and an audio recording of his rant has made it onto his Stem Player, which we will be releasing on our website soon for people who don't want to pay two hundred dollars for listening to audio.
Ye has yet to respond to our request for a comment, but we at the VOID Weekly hope that he can work his way through his landslide of a relationship. Stay tuned for more updates!
SKETE AND KANYE: STEPPING OUT FOR THE WORLD?
Just when things couldn't get more tense, Skete and Kanye were seen at the SAME place yesterday! What does this mean for their relationship?
As our readers at the VOID Weekly may recall, Skete's steady relationship with Kim Kardashian was all we could focus on for the past few months. I mean, we can't forget Ye's consistently capitalized Instagram posts on the two lovebirds!
However, Skete's appearance with Ye at an unknown LA bar is making us believe that the comedian might be stepping away from Kim for a while. Just one day after he hit rock bottom (see our coverage on his temper tantrum above), we spotted Ye at a bar, presumably to take out his frustration through other…methods. But two minutes later, none other than SKETE entered the same bar!! Granted, they were sitting five tables apart and looking in the opposite directions, but that's only a sign that things may be getting a bit more serious between the two!
One might be wondering how Kim is feeling right now after all of this, but she didn't respond to our requests for comments. Maybe it was because we were standing outside her window, but who knows? Stay tuned for more information!
KIM ACTIVE ON IG: IS THIS A SIGN??
Just a few hours after 'SketeYe' were canoodling together at the bar, Kim decided that enough is enough! She's now posting pictures of her mansion all over her stories and Instagram posts.
To some of our unenlightened readers, this might just be Kim posting about her life to document the heightened and unattainable status that celebrities have to create unrealistic expectations of success in a capitalist society. However, the VOID Weekly knows that this was a calculated way to tell Skete that all the benefits that he's gained from her might be gone soon. Because she's kicking him out of her house.
Even more, Kim was absolutely fuming when she took these pictures. During our daily stalk, we saw Kim furiously taking pictures while glaring at us from inside her house. Poor Kim; she seems to be so mad about Skete these days. No wonder she was angry this time. We at the VOID Weekly hope that Kim and Skete can get through this rough patch and move on.